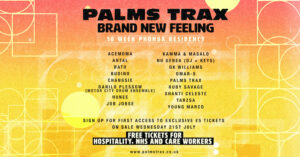 Hospitality Workers
We've teamed up with CODE – an online community for the hospitality industry, to offer free tickets to hospitality workers for Palms Trax's Brand new Feeling residency.
All you have to do is register and confirm that you work in the industry by heading to this link. Once you're signed up, search Phonox on the app and choose which show(s) you'd like to get free tickets for.
NHS Workers
We've teamed up with charitable ticketing platform, Tickets For Good, to offer NHS staff free tickets to Palms Trax's Brand New Feeling residency.
If you're a NHS worker, head to www.nhstickets.org to sign up for your free tickets.
You can then claim your free ticket(s) for the residency by clicking here.
Care Workers
Please email [email protected] with proof of your employment.